Ray Speech and Debate Team Earns 2nd Place at Carroll High School Tournament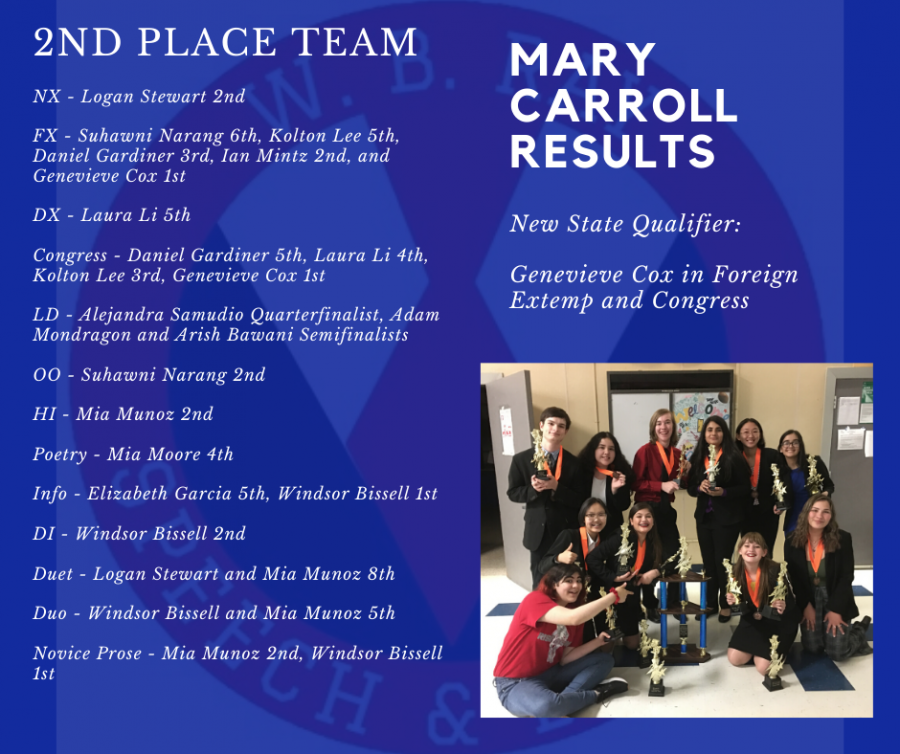 The Ray High School Speech and Debate Team has racked up a series of incredible performances at its two most recent in-town tournaments. The team did a phenomenal job at the Carrol High School Tournament, coming in second place overall. At the King High School tournament, the Ray team was awarded the third-place sweepstakes trophy. 
Some of the more notable accomplishments from the Ray team at the King tournament included Suhawni Narang's second-place finish and qualification for State in foreign extemporaneous, Ian Mintz's first-place finish in foreign extemporaneous, Zoe Robinson's second-place victory in congressional debate, and Maaz Haque's second place in oratory.
At Caroll's tournament, Genevieve Cox earned a first-place victory in foreign extemporaneous and in Congress, and became a State Qualifier in both events. Windsor Bissell placed first in Informative Speaking. Second place victories went to Ian Mintz in foreign extemporaneous, Mia Munoz in both humorous interpretation and novice prose, Logan Stewart in novice extemporaneous, Suhawni Narang in original oratory, and Windsor Bissell in DI.
On Saturday, November 16, the team will be competing in another tournament at Victoria East. Given their recent stellar performances at previous tournaments, it seems likely that they will have another great showing. Be sure to wish them the best of luck in their competitions!